Splitting sulphur bridges in water is more complicated than one thinks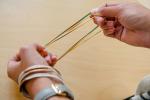 They are indispensable in proteins and rubber: bonds between two sulphur atoms that link the long molecules together. If one pulls on the sulphur bridges from outside, unexpectedly complicated processes occur.


---

Here you can find infos about our Course programs:
Bachelor
Course language German
Bachelor of Science in Chemistry
Bachelor of Science in Biochemistry
Bachelor of Arts in Chemistry + x

Master
Course language English
Master of Science in Chemistry
Master of Science in Biochemistry
Master of Science in Molecular Sciences and Simulation

Course language German
Master of Education in Chemistry + x






More than 30 research groups at the Faculty of Chemistry and Biochemistry as well as individual departments at four Max-Planck Institutes offer plenty of interdisciplinary research opportunities in a stimulating and state-of-the art research environment.
>


>